Doosan Vina kicks off New Year with HRSG shipment to Mexico (14/1)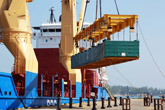 To begin 2014 Doosan Vina's Heat Recovery Steam Generator (HRSG) business unit got the company's 2014 export schedule off to a grand start with a shipment of earth friendly HRSG components for the Intergent thermal Power Plant in San Luis Potosi, Mexico. The shipment weighed 1,418 tons.
Russia to Temporarily Ban Food Imports From Greece (12/7)
Russia is planning to introduce temporary restrictions on dairy, meat and seafood imports from Greece, starting July 15, according to the Russian Federal Veterinary and Phytosanitary Inspection Service
Totally "Made in Vietnam" mega crane handed over to Port of Da Nang (2/7)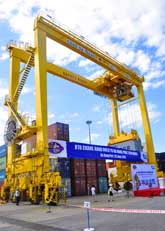 July 1st 2013, Doosan Vina marked another important milestone in the localization of the company when the first completely designed, engineered, manufactured and commissioned 145 tons Rubber Tired Gantry Crane (RTGC) was handed over to the Port of Danang on June 28th.
The third annual "One Mind Festival" (9/4)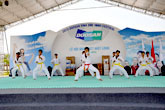 The third annual "One Mind Festival" at Doosan Heavy Industries Vietnam was themed "Proud People, Proud Doosan" took place on April 6th at the company's Dung Quat 110 hectare complex. Almost 2,500 employees were joined by nearly 300 guests from government agencies, clients, partners, the local community and members of employees' families for the all day event.
Vietnamese win Global Industrial Competition (16/3)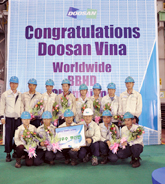 Doosan Heavy Industries Vietnam announced that Vitenamese technicians had recently won a global industrial competition in Korea. The competition involved entries from Doosan Heavy Industries seven worldwide production sites and to honor and welcome the winning team home a cermony was held at the company's 110 hectarce high tech manufacturing complex in Quang Ngai.
ASEAN and Global Rice Situation and Outlook (28/1)
The ASEAN and global rice market fundamentals in 2011–2012 indicate record production and growth in global stocks. International reference prices for long grain white rice have declined significantly from levels of the previous 3 years.