Sea News
2/25/2014 8:52:55 AM
CMA CGM has launched the Equatorial Guinea Express, a weekly, direct service from Tanger-Med to the ports of Bata and Malabo in Equatorial Guinea.
The service started its maiden voyage with the Mario A, voyage 900BS, from Tanger-Med on Feb. 18, and will call at Bata on March 3 and Malabo on March 4. The new port rotation will be as follows: Tanger-Med, Bata, Malabo and back to Tanger-Med.
Furthermore, the container line will implement temporary changes on its MEX1 service, which connects Asia to North Africa, Spain and France, to "improve schedule reliability," CMA CGM said. Effective March 5 with the Maersk Essex, voyage MEA36W, CMA CGM will withdraw calls at Nansha, China, and Port Klang, Malaysia, for an 11-week provisional period. Export cargo from Nansha will be loaded on MEX3, and feedering from Southeast Asia ports of loading will be rerouted to Tanjung Pelepas, Malaysia, for connection on MEX1.
In addition, CMA CGM will upgrade its CIMEX 2 service, which connects Asia, Sri Lanka, West India and Pakistan. The new service, will now offer three dedicated loops; three weekly sailings covering South Korea, China, Malaysia, Singapore, Sri Lanka, India and Pakistan; Hong Kong, Singapore and Colombo, Sri Lanka, as transshipment hubs; and an eastbound Colombo call.
The three loops are the North Loop, CIMEX 2-N, from Tianjin, China, with the Sealand New York, voyage 9X 001W; the Central Loop, CIMEX 2-C, from Shanghai with the Cap Arnauti, voyage 9Y 001W; and the South Loop, CIMEX 2-S, beginning from Nansha with the APL Iris, voyage 9Z 001W.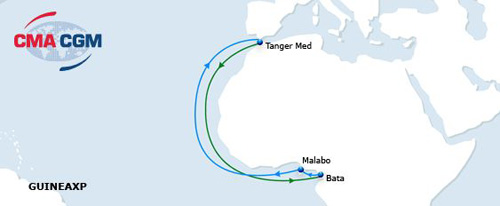 The port rotations will be as follows:
North Loop

: Tianjin; Dalian and Qingdao, China; Kwangyang and Busan, South Korea; Ningbo, China; Hong Kong; Singapore; Tanjung Pelepas; Colombo; Pipavav and Nhava Sheva, India; Port Qasim, Pakistan; Singapore; and Tianjin.

Central Loop

: Shanghai; Ningbo; Xiamen, China; Hong Kong; Singapore; Colombo; Nhava Sheva; Pipavav; Port Klang; Singapore; Hong Kong; and Shanghai.

South Loop

: Nansha; Chiwan, China; Hong Kong; Singapore; Colombo; Nhava Sheva; Pipavav; Colombo; Port Klang; Singapore; and Nansha.
The Journal of Commerce