CMA CGM and NileDutch in vessel sharing deal (19/5)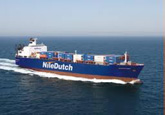 Two container shipping lines, CMA CGM and NileDutch, have concluded a vessel sharing agreement (VSA) for services from South America to West Africa. This agreement will take effect in week 22.
Maersk to raise Asia-Europe freight rates (15/5)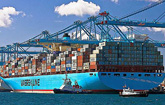 Container shipping company Maersk Line, a unit of A P Moller-Maersk, plans to increase freight rates on main routes from ports in Asia to ports in northern Europe with effect from June 1.
Ocean Carrier Rate Revision Roundup for April 18
(19/4)
Hapag-Lloyd merger creates 4th largest line
(18/4)
UASC to team up with CSCL on Asia-Europe with CMA CGM's departure
(18/4)
Maersk to charter MSC slots to South America
(18/4)
Maersk first to start PTP-Bitung direct service
(17/4)
Maersk to raise Asia-Europe freight rates
(17/4)
AADA to increase rate US$500/TEU from China to Australia May 15
(16/4)
NYK to charter 8 14,000-TEU container ships
(16/4)
Maersk service to connect East Coast, South America
(16/4)
Shipping costs to rocket as low-sulphur fuel mandates hit next year
(15/4)
Mega ship global cascade is damaging north-south trade, says Drewry
(7/4)
Ocean Carrier Rate Revision Roundup for April 4
(5/4)
Shenzhen's Yantian container terminal launches weekly Haiphong service
(5/4)
OEL Singapore launches Vietnam loop connecting Singapore and Malaysia
(4/4)
CMA CGM reshuffles services
(4/4)
CaroTrans to launch Le Havre-Houston LCL service
(2/4)
CSCL, Hanjin, Evergreen receive three 8,000-10,000 TEU ships
(1/4)
Ocean Carrier Rate Revision Roundup for March 28
(31/3)
CKYH to cut capacity as slack season nears
(26/3)
CMA CGM, China Shipping, UASC to start Asia-Red Sea Express service
(25/3)
Ocean Carrier Rate Revision Roundup for March 21
(22/3)
TSA Members Reschedule GRI
(20/3)
Portugal-Angola box loop with Luanda feeders, fortnightly Durban-Maputu
(19/3)
MOL, RCL upgrade intra-Asia network with Singapore to Yangon feeders
(17/3)
WorldWide Alliance adds 9 countries
(17/3)
Evergreen to end VSA
(13/3)
Evergreen receives 4th of 30 L-type 8,500-TEU newbuildings
(12/3)
Suez Canal attracts as many Asia-US east coast boxes as Panama does
(11/3)
Ocean Carrier Rate Revision Roundup for March 7
(10/3)
CaroTrans launches Central America service
(8/3)
Maersk to raise Asia-Europe rates
(6/3)
Namsung Shipping starts KPI Singapore-Busan service on March 15
(6/3)
NYK, MCC upgrade Japan, South China, Thai loops with Perseus Service
(4/3)
Carriers announce new Southeast Asia services
(4/3)
COSCO to raise cargo rates by $1,000 in 11 weeks
(3/3)
MOL offers two intra-Asia Qingdao-Manila/Bangkok services with RCL
(3/3)
OOCL hikes southeast Asia-Australia rate US$200/TEU from April 1
(3/3)
CMA CGM launches first container service between Hamburg and Black Sea
(1/3)
CMA CGM Launches Equatorial Guinea Express Service
(25/2)
Tiran Shipping introduce Iskenderun-Israel-Jordan RO-RO service (24/2)

MOL to link Thailand to AJS service (22/2)

OOCL box volume up 10pc, but only intra-Asia/Oz trades hike revenue (27/1)

Evergreen to charter seven 14,000 TEU ships (28/12)

FPS launches Rotterdam-Fiji direct LCL service (7/12)

ZIM in talks to expand G6 Asia-US partnership (5/12)

CaroTrans launches direct LCL New York-St Petersburg service (29/11)

Matson raises Hawaii service rates (27/11)

Ocean Carrier Rate Revision Roundup for Nov. 22 (26/11)

8 carriers cut Far East-WCSA capacity 20pc merging joint loops in winter (23/11)

APLs 5th newest 9,200-TEU ship enters service (15/10)
Singapore's PIL offers dedicated new feeder for west Africa (12/10)

Ocean Carrier Rate Revision Roundup for Oct. 4 (5/10)

Rizhao port's 8-month cargo volume up 10.3pc to 200 million tonnes (19/9)

Singapore port up 3.6pc in August to 2.8 million TEU, HK down 5.9pc (18/9)

Maersk stretches East Med-Mideast-India to Black Sea's Novorossisk (16/9)

UASC and CSCL to launch Intra-Asia loop (13/9)

OOCL to Join India-Africa Service (5/6)

Cosco, RCL and OOCL launch joint China-Thailand service (18/5)

Hapag-Lloyd announces change in GS1 Service (17/5)