Transport & Logistics News
Intra-Asia trade to drive demand for cross-border trucking in SE Asia
12/2/2013 9:21:20 AM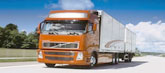 GROWING cross border trade will create a boom in demand for the trucking sector in south east Asia, particularly, between Vietnam, Thailand, Malaysia, Cambodia and into south west China, according to Asian Trucker magazine.

"Better road infrastructure will have the biggest impact for the inland areas across emerging markets in south east Asia, greater access will accelerate progress in development projects, attract investment and create employment opportunities in some of the poorer parts of the region," said the report.

"For trucking manufacturers the future is bright, as cross-border road freight services are increasingly attractive to customers because of improved shipper transparency and security, and the ability to offer trucking as part of a multimodal solution or as a time-definite door-to-door service. The mode also offers more flexibility than air on cut-off times and a speed advantage compared to ocean.

"Manufacturing clusters are setting up along the highways taking advantage of the improved road access to the growing number of consumers in the region," it said.
Asian Shipper News